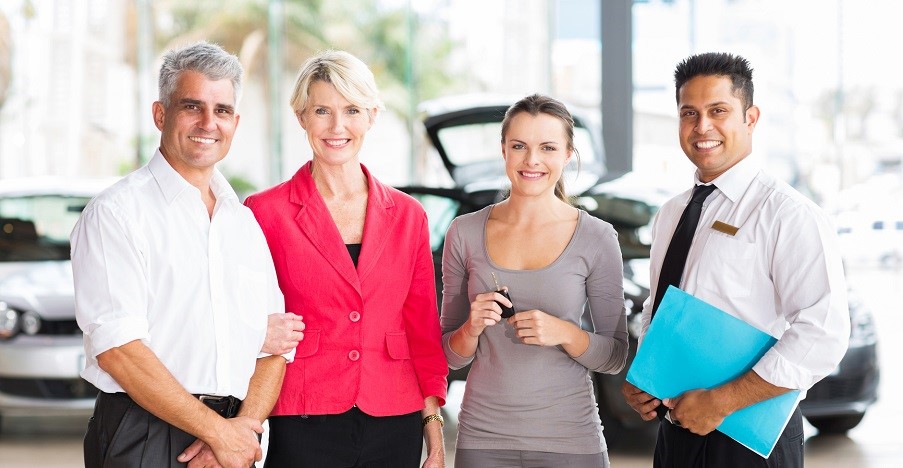 Apply for Financing Auto Finance Question Library
Financing a new or used vehicle can be overwhelming, but at Indy Car Financing, we don't think you should have to go it alone. Our experts have prepared a handy database of commonly asked questions with clear, easy to understand answers to help you get the information you need to make an informed purchase. Use this and our handy car finance dictionary when you're ready to buy your next vehicle at one of our Indianapolis-area dealerships and take the mystery out of car financing once and for all.
Our Auto Financing Dictionary
There are plenty of industry terms that you'll come across when shopping for your next new or used car. Listed below are some of the most common, and a few of the most confusing:
APR – The annual percentage rate or rate of interest you'll have to pay on your contract every year.
Auto Equity Loan – A loan that uses the equity in your vehicle as collateral for a loan. In exchange for lending you a specified dollar amount, the lender holds the title to your car, returning it to you when the note is paid in full.
Balloon Payment – A large payment due at the end of a loan term, often used to help lower the monthly cost of a loan.
Bill of Sale – Bills of sale are records of transactions between two parties, and you typically need one when buying or selling a vehicle whether it is from a dealership or from an individual. A bill of sale does not prove ownership, but is a crucial step in the car-buying process.
Black Book – A "Black Book estimate" is one that is based on the average value a vehicle has sold for at auction over the past week to give the dealership an idea of what a car or trade-in is worth.
Blue Book – For nearly a century drivers have trusted the estimates from Kelley Blue Book as an alternative (and often more accurate) measure of the value than the Black Book value. These values are based on auction prices, used car sales, and reports from independent and franchised dealers.
Buydown – A buydown is a type of loan where the buyer negotiates a lower interest rate for part or all of the loan period, usually with a higher downpayment or an increased purchase price.
Cash Back Refinance – This type of refinancing is a loan against the value of the vehicle that then pays off any existing loans and leaves you with cash leftover after paying off those costs.
Certificate of Title – The legal document provided by the Department of Motor Vehicles (DMV) verifying ownership of a vehicle.
Credit Score – A number given by the credit scoring system that demonstrates a consumer's creditworthiness based on a number of factors, including past credit history.
Credit Worthiness – A person's credit score is a measure of their credit worthiness, giving lenders and institutions an idea of how likely they are to pay their loan back and on time.
Default – Breaking a credit agreement, usually due to failure to make regularly scheduled payments.
Delicacy – A luxury item, usually acquired at great expense.
Delinquency – Paying loan payments past the due date.
Destination Charge – The money charged by the manufacturer to deliver the vehicle to the dealership.
Disclosures – Information about the vehicle's history, including damage, repairs if known, and title information.
Down Payment – Money paid at the outset of a loan which helps to lower the overall amount financed, resulting in lower monthly payments.
Equal Credit Opportunity Act – A federal law prohibiting lenders from denying an applicant access to credit based on race, color, religion, national origin, sex, marital status, or income received from government assistance programs.
Finance Charge –  Any charge that shows up with regard to your loan, including late payment charges or charges for taking out the loan.
Financing – Receiving funds from a lending institution in order to make a large purchase, such as an automobile, typically accompanied by a contract defining the terms of repayment.
F and I Office – Short for the "finance and insurance office," this is the area of a dealership where all of the financial paperwork is taken care of before handing you the keys to your next vehicle.
Grace Period – A period of time, usually no more than 60 or 90 days, when you do not need to make payments on a loan (but the interest usually still accrues).
Gross Monthly Income – The amount of income you have before taxes and expenses.
Incentives – Benefits for choosing a particular lease or loan options, such as a low interest rate, a grace period, complimentary auto service, or gift.
Lease – The financial contract between a holding company and a lessee detailing the terms of a lease agreement.
Leasing – The act of borrowing a vehicle for a contracted period of time in exchange for regular payments to a leasing company.
Lessor – The person or institution that is lending you (the lessee) money to purchase a car.
List Price – The Manufacturer's Suggested Retail Price for a vehicle.
Loan – Money borrowed from a financial institution used to make a large purchase such as a vehicle. The terms of a loan detail the amount borrowed, length of contract, fees associated, monthly payment, and total repayment amount.
Loan-to-Value Ratio – The ratio expressing the difference between the value of the vehicle, and the loan used to purchase it.
Monroney Sticker – This is a sticker put on the window of every new vehicle detailing its full specs and features. A new car is legally requires to have a Monroney sticker on it to prevent dishonest sales.
MSRP – The List Price or "Sticker Price" of a vehicle for sale.
Payment-to-Income Ratio (PTI) – The percentage of the borrower's income that the vehicle's loan payment requires. Most lenders have a maximum PTI to avoid lending consumers more than they can afford to repay.
Pink Slip – Popular terminology for the title of a car, which is pink in many states. Signing over a pink slip is signing over ownership of the car.
Principal – The amount owed on a vehicle, not including service fees and interest.
Power of Attorney – If someone has your power of attorney, you have given them the legal right to act instead of you when it comes to financial and legal matters, including signing loans.
Rebates and Incentives – Special offers from manufacturers and dealers which can reduce the cost of a vehicle, provide cash back, or deliver special products in return for a purchase.
Refinancing – The process of taking out a new loan in order to extend the terms of the original loan or to obtain a reduced finance rate.
Stips – Stipulations in a loan contract requiring the borrower to complete certain tasks prior to receiving funding. This may include items such as proof of income, residency, or other additional information.
Subprime Loan – A loan that is offered to individuals who may have trouble obtaining traditional financing. These loans are typically at a higher rate of interest and may include stipulations not present in more mainstream loans.
Title – The certificate of vehicle ownership.
Title Loan – A finance contract using the equity in your vehicle as collateral. The borrower makes regular payments as agreed upon in the loan contract and the lender holds the vehicle's title until the contract is paid in full.
Upside Down Loan – A loan where the amount borrowed exceeds the value of the vehicle.
Usury – A law prohibiting lenders from exceeding a set maximum interest rate on vehicle loans. These maximum rates can vary by state, type, and age of vehicle.